20 Lessons we've Learned in 20 Years of Logistics Technology
As we celebrate our twentieth year in business, we take the opportunity to reflect upon the lessons we've learned working with thousands of logistics services businesses along the way.
We're proud to say that Magaya has grown from the ground up, beginning with the founders operating out of a family member's apartment, to the global enterprise we are today. We attribute our success to our laser focus and commitment to helping the world's freight forwarders, 3PLs, NVOCCs, warehouse operators, customs brokers, and other logistics businesses GROW. Our customer growth is our growth, and we appreciate all the opportunities our customers, partners, and investors have given us along the way to learn and evolve as a company.
In this article, we have compiled some of the lessons we've learned in 20 years of developing logistics software and serving the logistics business community.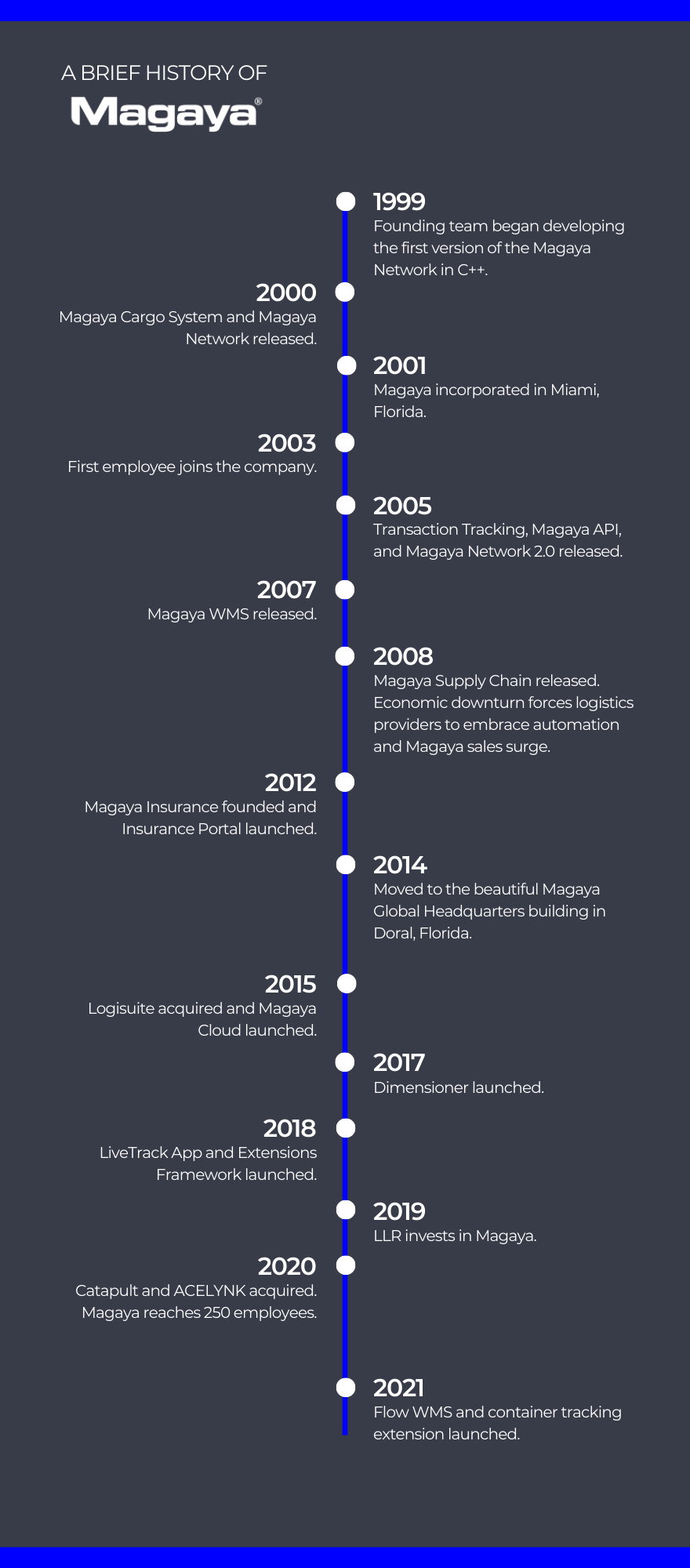 Logistics Industry
"Supply chain and logistics operations within warehouses have been automated by using various technologies (i.e., bar codes, optic readers, RF, conveyor systems, robotics, and magnetic readers). While conveyors still carry products, the automation part is the key change over the last 10+ years as warehouse operations become further automated with the deployment of bin-carrying robots and autonomous forklifts. Coming very soon, we will see the effect on inbound supply chain shipments where driverless trucks will take over the road and even handle last-mile delivery. It's an exciting time!"
"The logistics industry as a whole still lacks overarching standards in many areas. Companies must invest time in understanding how various processes and software will communicate with one another."
Laura Finbow, Managing Director, EMEA
"Standardization is possible when collaboration is prominent with industry leaders. We saw basic processes such as booking, shipping instructions, and basic status events standardized. We're facing the next frontier of standardization in the industry across other processes using more advanced technologies. The same collaboration is required to recognize the proposed benefits."
Virgil Ferreira, Chief Operating Officer, Rate Management
"It is best to buy software created by or endorsed by industry experts because they understand the unique needs of your business."
Laura Finbow, Managing Director, EMEA
Data
"Over the last twenty years, advances in technology have led to greater connectivity resulting in an immeasurable amount of data. We went through the Big Data craze, collecting a massive amount of data in a central system. We've helped customers do this with rates globally. It's important to continue to innovate and to do so you must truly understand your data. The focus is now shifting to predictive analytics, making sense of the data and using it to predict the future. We will continue to innovate with initiatives such as dynamic pricing."
Virgil Ferreira, Chief Operating Officer, Rate Management
"What goes in must also come out. Silos are the enemy of efficiency – both in software and in business teams."
Laura Finbow, Managing Director, EMEA
"After spending 15+ years in the ocean industry, we have learned that the data is incredibly complex, but it is our attention to detail that allows for full visibility of the data (with little to no errors) to our clients that brings immense value. Ultimately, data is king, and it is our commitment to excellence that has allowed us to deliver a seamless data management service and top-tier software for viewing it.
To illustrate how important data is, when we first started our business, we focused on an online marketplace for selling ocean and air rates to third parties. It seemed for every shipment we booked, we ended up losing money on it. After analysis, we realized this was happening because the freight forwarders we partnered with could not keep their rates up to date and accurate. By the time a booking occurred, the rates had already changed, and the freight forwarder was not even aware. We quickly realized we were focusing on the wrong solution and that we needed to help these freight forwarders manage their data. The rest is history."
David Luttrell, Chief Technology Officer, Rate Management
"Data alone is not valuable. More data does not equate to more value. You must use it to drive decisions or actions."
Laura Finbow, Managing Director, EMEA
Technology
"Our customers have told us many times: whatever enhancements you make to the software, never lose its user-friendliness, that is your biggest value."
Jose Yoniel "Yoni" Garcia, Chief R&D Officer and Co-Founder
"Over time, we have learned that all our customers, even though they operate in the same space, all conduct their business differently. It is important to build software in a way that is flexible enough to account for all these variances in processes while still satisfying the needs of the broader market."
David Luttrell, Chief Technology Officer, Rate Management
"Your software ecosystem needs to be flexible and interoperable so it can create a framework for what makes your business unique. No two businesses are alike, but that doesn't mean that they can't use the same software platform in different ways."
Laura Finbow, Managing Director, EMEA
"Think big, start small – an Agile Development principle. As we were planning our next-generation Flow WMS app, we knew it will take a couple of years to build everything it needed. We also found out that the biggest pain point our customers had in the warehouse, quickly taking and attaching to Magaya high-quality photos of their items, was the easiest for us to solve from a technical standpoint. So, we built and released the Binder app in a few months to solve just that specific problem. The feature will be in Flow WMS, too, but, in the meantime, many customers have been able to use Binder and save hours per day in photo management."
Kristjan Lillemets, Director of Product
"Technology in the last 20 years provided many efficiencies we now consider basic, just as before, embrace new technologies such as AI and Machine Learning and stay ahead and enjoy the next wave of improvements in the shipment processes. "
Virgil Ferreira, Chief Operating Officer, Rate Management
"User experience is more important than you may think. A lot more important."
Laura Finbow, Managing Director, EMEA
"Magaya software is renowned for four things: our breadth and depth of functionality, our fair pricing, our ease of use, and the superb customer service we offer. We will never stray away from these pillars of our success."
Jose Yoniel "Yoni" Garcia, Chief R&D Officer and Co-Founder
Customer Service
"When acquiring new software or any technology, the customer should invest resources into implementation. This is the key to gain the full benefits and ROI from a software investment.
An effective implementation encompasses so much more than just training alone. It includes gaining a deep understanding of the customer's business, setting up the software to meet those needs, and, finally, training the users to use the software efficiently."
Nomar Ramis, Chief Customer Officer
"We begin our workday with a single mission – to serve the individuals who use our software and to learn from their experiences for the betterment of all."
Matthew Fotouhi, Chief Technology Officer, ACELYNK
"Get out of the building! Chances are, that as a Magaya customer you've received an in-person visit from our customer success, product, professional services, or support teams – even software developers! Can you say that about most of the other software vendors out there, with the exception of a salesperson? We've believed from early on that to build software that truly addresses the needs of our customers, we need to be out in the field with them. Every Magaya team member visiting a customer is bringing back invaluable insights to our product development team. Those insights are a key pillar of our product roadmap."
Kristjan Lillemets, Director of Product
"The customer must play an active role in the implementation process, and it comes from the top down. The company's leadership should be engaged and have an open mind when it comes to best practices."
Nomar Ramis, Chief Customer Officer
"Map your entire customer journey, and highlight where your software adds the most and least value. You might be surprised at the opportunities you discover when you take the time to lay it all out."
Laura Finbow, Managing Director, EMEA