Why a Dimensioner Needs to be in Your Warehouse Automation Plan
If collecting parcel or pallet dimensions is part of your warehouse workflow, then read on. A dimensioner can save you loads of time and money by gathering highly-accurate weights and measures in an instant. 
Ready to digitize and modernize your warehouse operations?
As the on-demand economy grows in leaps and bounds, so does the demand for hyper-efficient, high-value warehousing services. One of the key lessons the business world – and the supply chain industry in particular – has learned this year is that having the ability to pivot and scale quickly to adapt to changes in demand is essential to success.
How do businesses prepare for the unexpected? How can warehouses and distribution centers architect resilience? Technology is a key enabler of agility and efficiency in warehouses. As a recent Forbes article boldly puts it, "automation is the future of warehousing."
But, warehouse automation is a broad topic. With seemingly endless options to consider, it can be hard to know where to begin. In this article, we head to the shipping docks to learn about a warehouse automation staple, the dimensioner, an excellent place to start your warehouse automation journey.
 Key Takeaways
A physical hardware device that consists of cameras and scales, a

 

dimensioner

 

automates the manual process of measuring, weighing, and sometimes photographing cargo.
Benefits include improving productivity, increased accuracy, fewer invoice disputes, and more. 
Pallet and parcel dimensioners differ in physical footprint, scannable area, and a few other details.
What is a dimensioner?
Wikipedia defines dimensioners as "weighing and volume measuring systems for measuring three-dimensional or cube-shaped objects such as packages, parcels, pallets, cartons, and boxes."
A physical hardware device that consists of cameras and scales, a dimensioner automates the manual process of measuring, weighing, and sometimes photographing cargo.
There are different types of dimensioners that are designed to process different types of goods. A pallet dimensioner is designed for quick and easy measurement of pallets or palletized freight that can be placed under imaging equipment by a forklift or pallet jack for scanning. For example, the Magaya Pallet Dimensioner is NTEP-certified to a minimum of 7 inches, up to 84 inches for length and width, and up to 72 inches for height. The system can also measure higher: to 98 inches maximum height and 108 inches for length and width.
A parcel dimensioner usually has an elevated platform for ergonomic manual placement of smaller packages. The Magaya Parcel Dimensioner dimensions are a maximum of 3 feet x 3 feet x 3 feet. The minimum is 2 inches.
What are the benefits of using a dimensioner?
Improved Warehouse Productivity
Perhaps the first benefit that comes to mind when considering an automated dimensioner is improved productivity or efficiency. It takes a long time for a warehouse associate to manually measure each dimension of a pallet or parcel. If you process irregularly-shaped shipments, it can take even longer.
A dimensioner captures your weights and measures in a flash, shaving minutes off your handling time. For a warehouse or distribution center that processes hundreds or thousands of pallets in a day or week, it's not hard to see how the savings can quickly add up.
Increased Measurement Accuracy and Reduced Errors
A dimensioner doesn't just save you money: it makes you money! In a high-volume warehouse operation, getting things right the first time is essential. Errors and inaccuracy can come at a high cost. Many warehouses, 3PLs, and freight forwarders charge their customers based on volume. Inaccurate data capture can mean that you're leaving money on the table. On the flipside, you may also be overcharging, which could lead to chargebacks and angry customers.
Optimized Storage and Delivery Space
The old adage may be, "time is money," but In the warehouse industry, in fact, time and space are money. By calculating accurate length, width, and height dimensions and weight, you have the data needed to optimize storage and delivery space, fitting more into your warehouse or into each outgoing truck or cargo container.
Improved Customer Service
Your customers entrust you as a valued business partner, so you owe them accurate, honest measurements. Plus, if your dimensioning technology also has imaging capabilities, you can also photograph cargo, pallets, and parcels, providing your customers with a level of visibility they are sure to appreciate.
What kinds of companies can benefit from using a dimensioner?
If you need to measure pallets or parcels on a regular basis to determine charges or plan spaces, then you should definitely be looking into an automated dimensioning machine. The size of your company doesn't really matter: small businesses and large enterprises alike can benefit from a fast return on investment with a dimensioner in their warehouses.
How do I know whether a pallet or parcel dimensioner is right for me?
We're proud of the success our customers have experienced with the Magaya Dimensioner. Magaya customers have been able to recoup $40 of lost revenue and save 3 minutes on average for EACH pallet by recording maximum dimensions automatically, instantly, and accurately with the Magaya Dimensioner. For many companies, that means that the Magaya Dimensioner pays for itself in weeks – not years!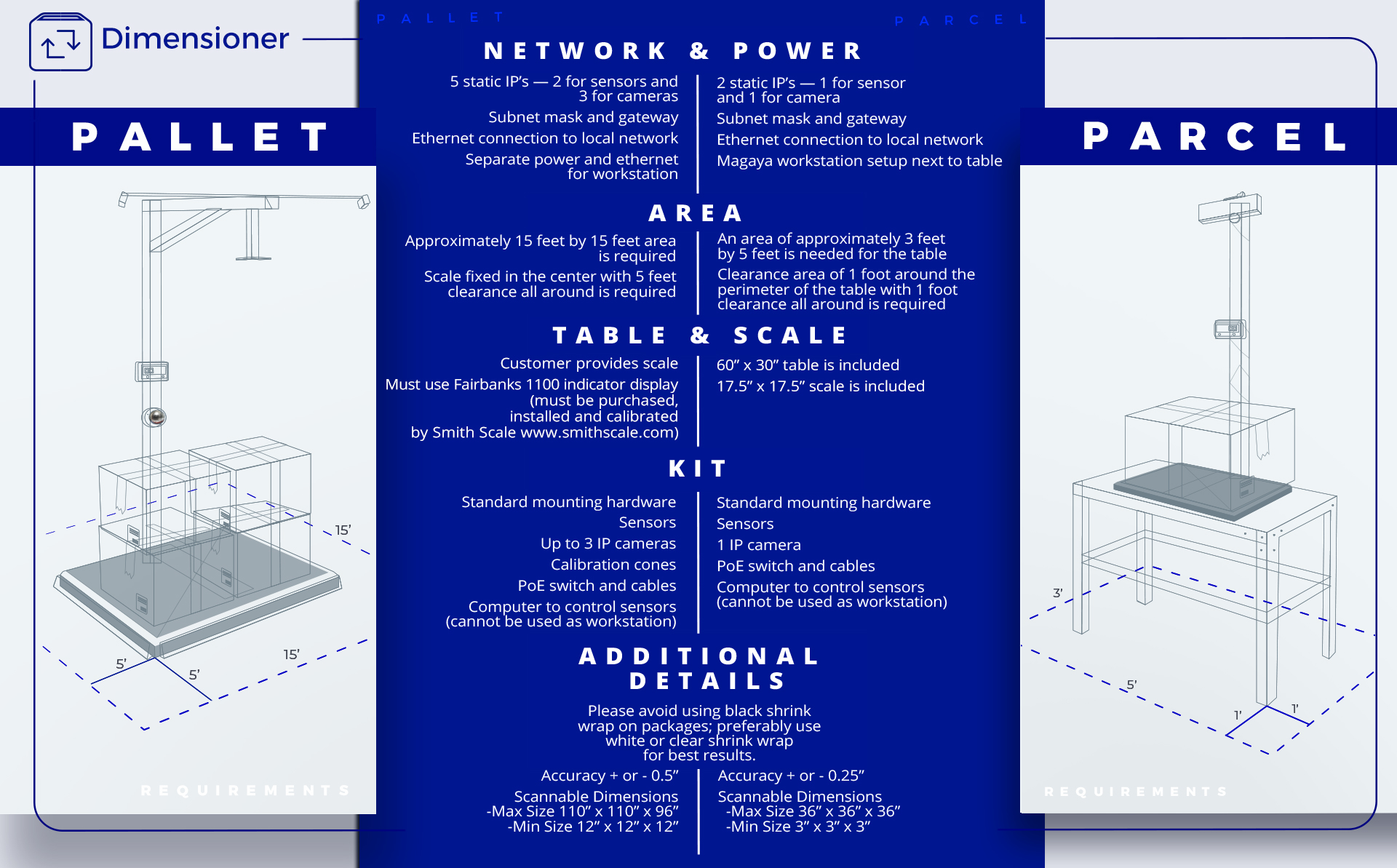 While we think that the Magaya Dimensioner will be a great fit for nearly all companies, we encourage you to do your due diligence and check out the competition. We're confident that you will quickly discover the Magaya Dimensioner advantage. Some of the points to consider as part of your dimensioning technology search include:
Physical Footprint
Dimensioning machines can range from bulky, behemoth apparatuses to leaner, more streamlined devices. Depending on the space you can allocate, you should consider the devices' physical footprint. Whether you need a pallet dimensioner or a parcel dimensioner, Magaya has designed its devices to be as unobtrusive as possible.
System Integration
Does your dimensioner play well with others? Some units will require their own software for operation or require you to purchase costly custom integration services. At Magaya, we are flexible in this regard, with an open API framework that you can use to integrate with any system, even homegrown. If you prefer, our systems integration engineers can also take on this work. Of course if you do use Magaya Supply Chain, you benefit from a standard, out-of-the box connection.
Setup and Support
A recent study revealed the priorities that were top of mind when considering warehouse automation investments. The number one priority was durability and uptime, followed closely by support response time and total cost of ownership, return on investment (ROI) and maintenance costs.
As you weigh your dimensioner options (pun intended), consider the support available for setup and ongoing operations and maintenance. Is there on-site support? Are there virtual consultations available? What are the support hours? Are there additional costs involved?
Cost Structure
Of course, cost will be at the forefront of any investment you make. Consider upfront costs as well as ongoing costs. At Magaya, we typically employ a Device as a Service (DaaS) model, which eliminates the high upfront cost of traditional dimensioning tools making the Magaya Dimensioner more accessible for any size company and any budget.
At the end of the day, what is most important is the return on investment you will gain from implementing a dimensioner in your warehouse. Use our simple ROI calculator to compute how quickly you can gain a return on investment with a Magaya Dimensioner based on your warehouse statistics.
Ready to digitize and modernize your warehouse operations?
See how Magaya can help.